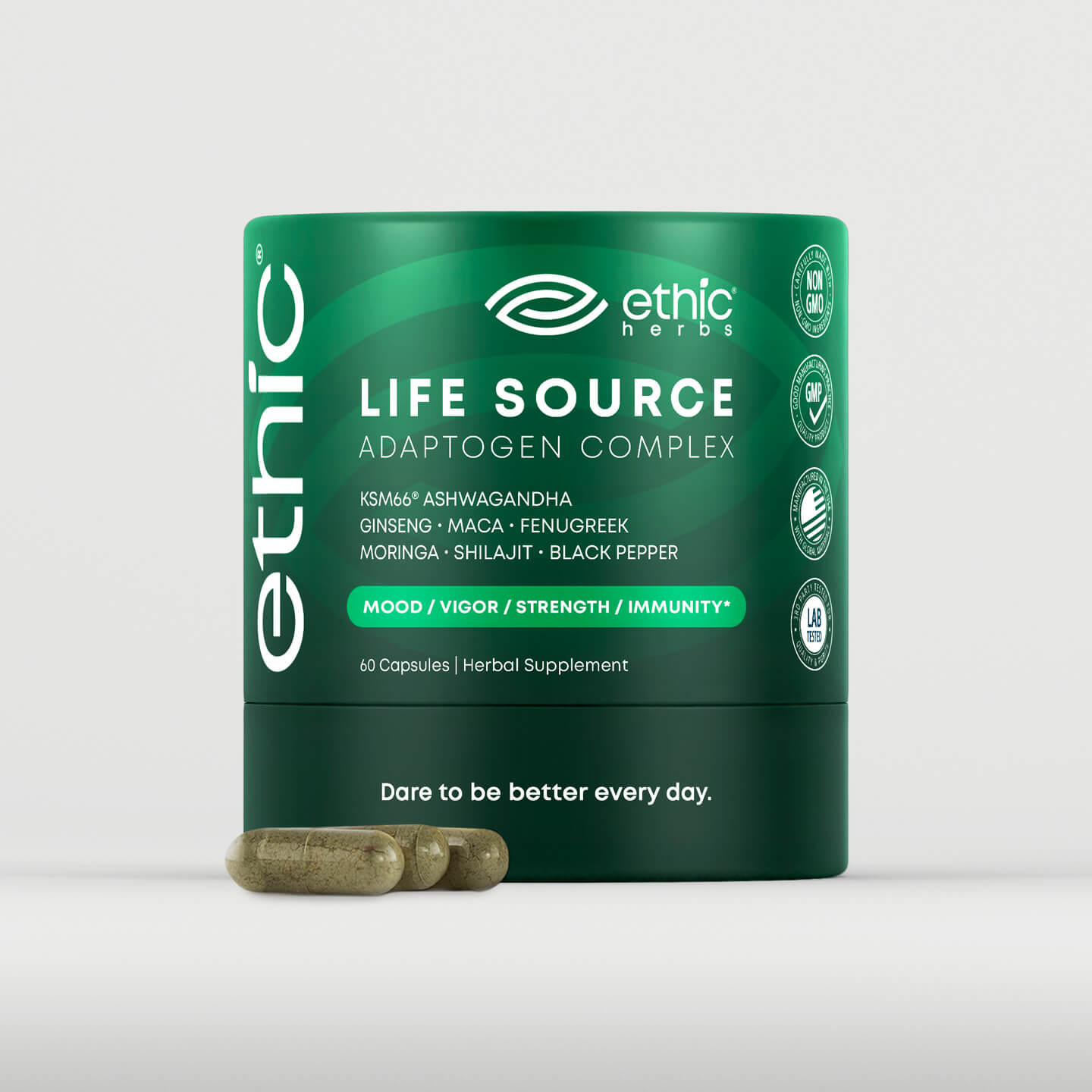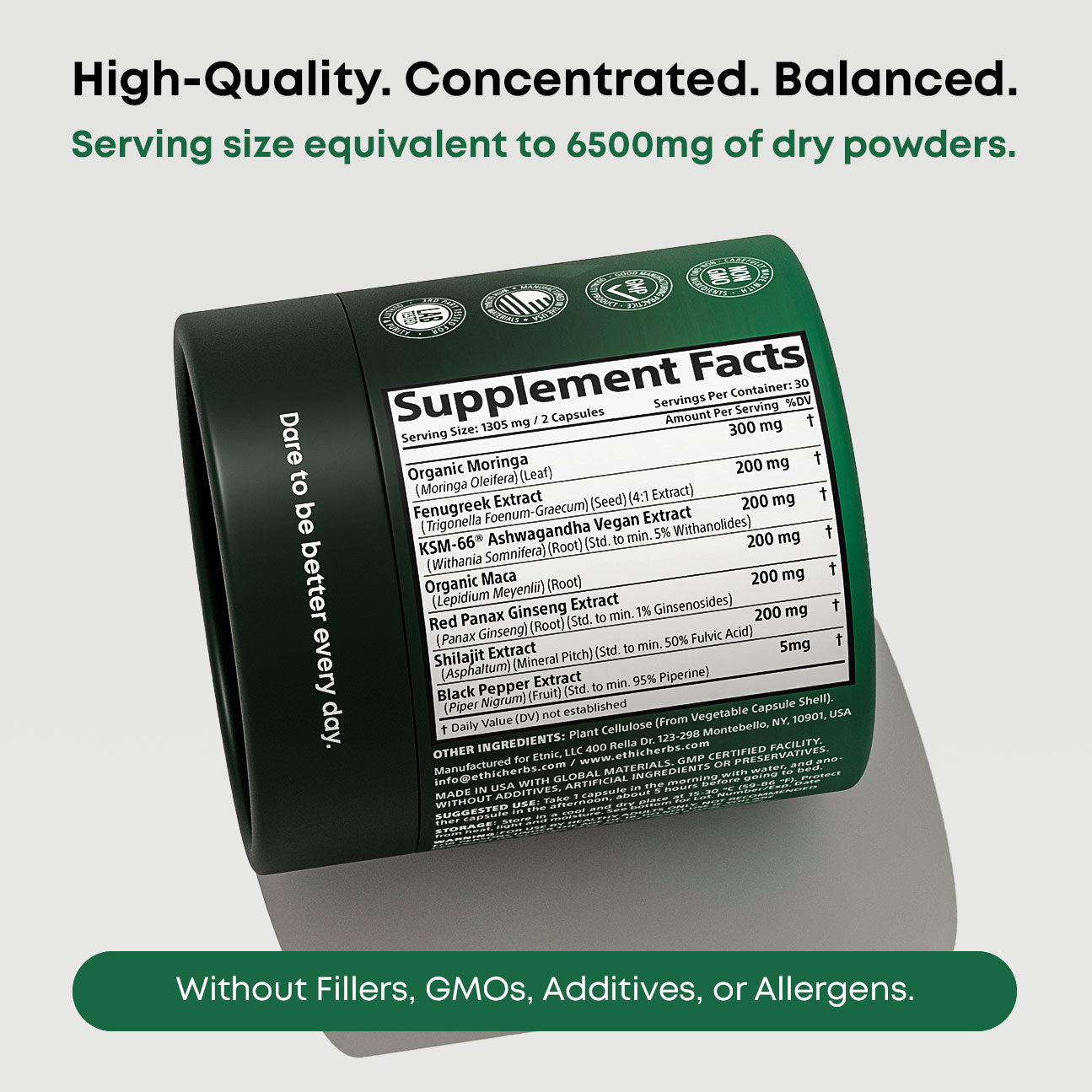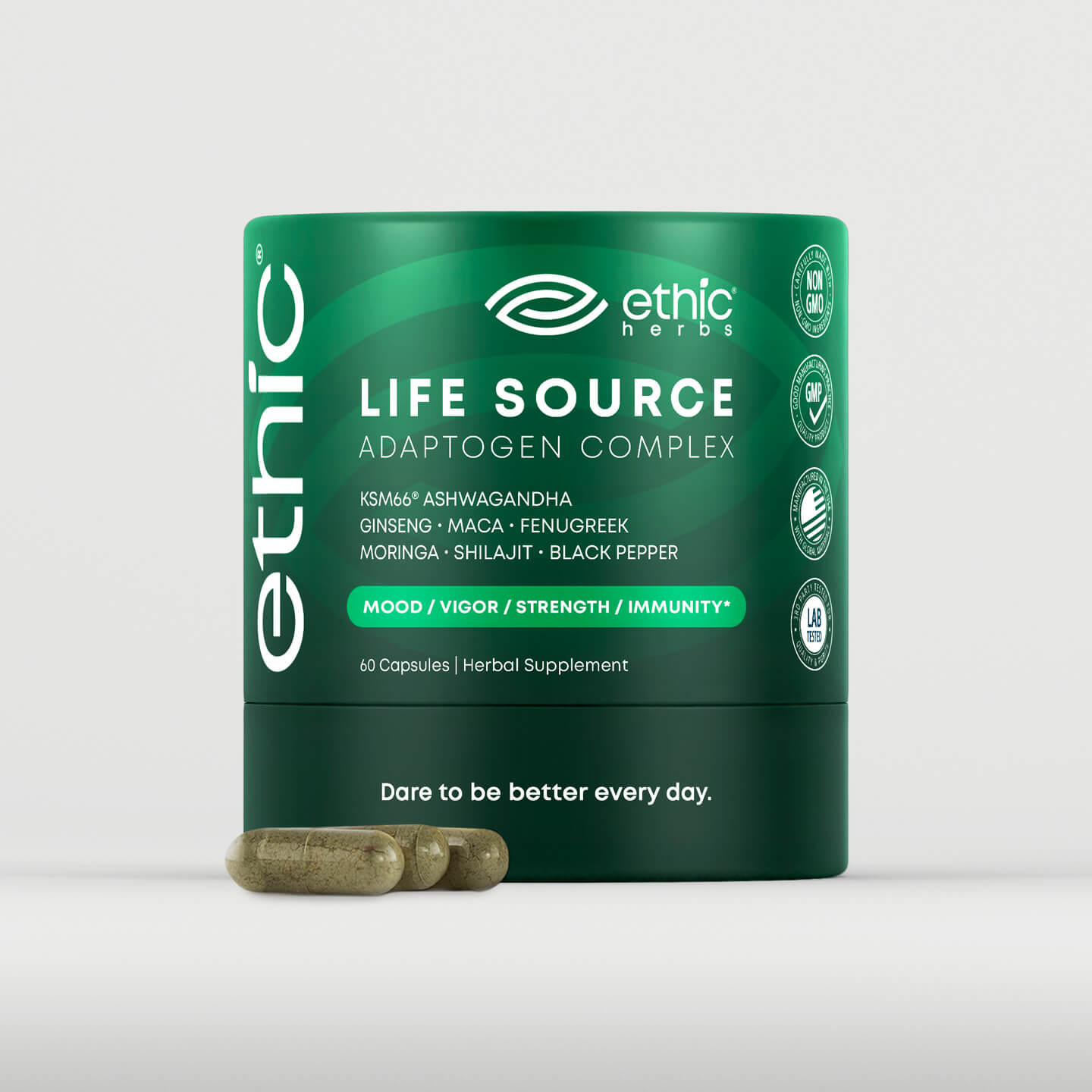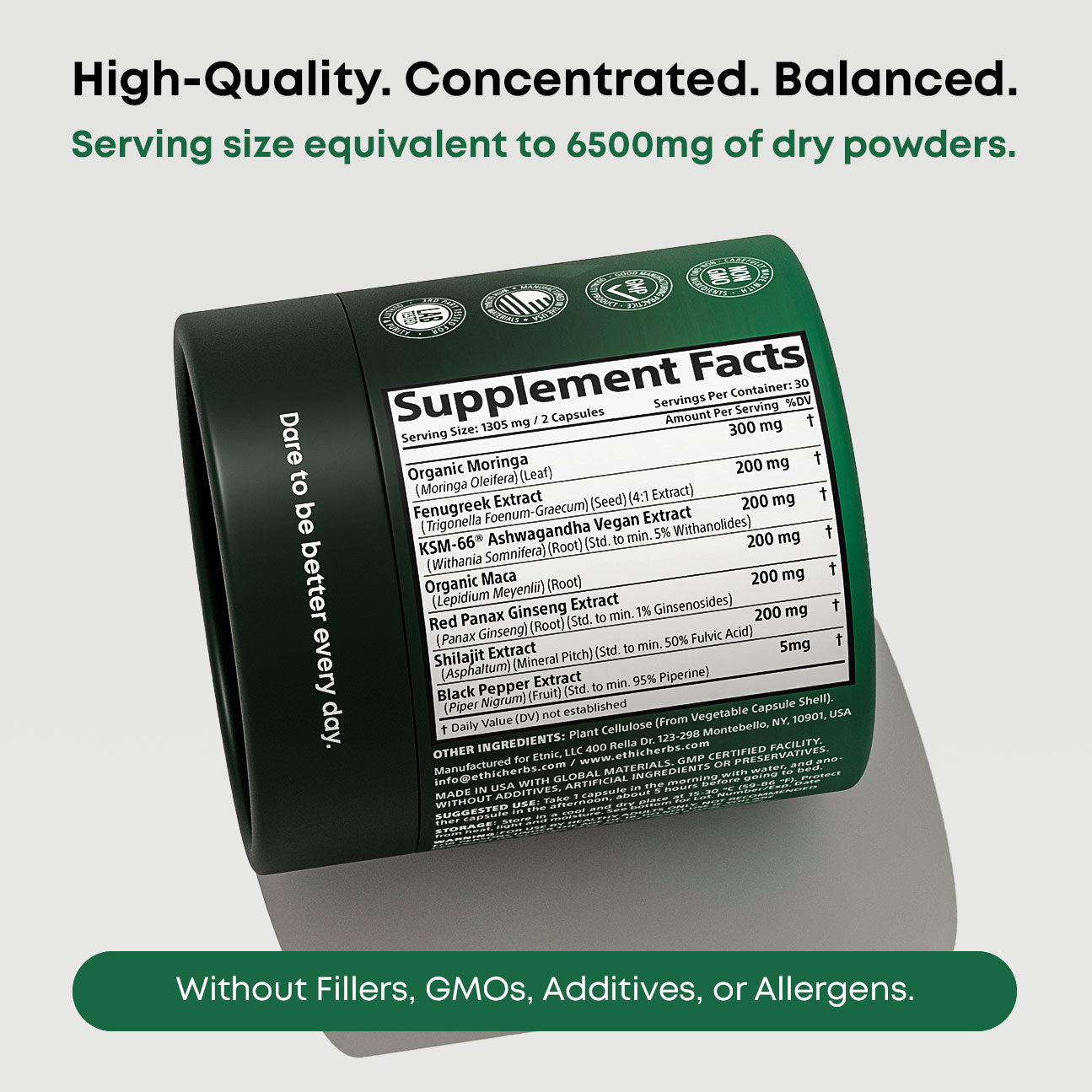 LIFE SOURCE - Ashwagandha and Maca Root Natural made multivitamin
"This stuff is gold!! I'm still on my first bottle and it has already changed my life. It had an impact on my energy levels and I feel more motivated. I will buy again."

6 IN 1 ADAPTOGEN COMPLEX FOR HEIGHTENED VIGOR, IMPROVED MOOD AND STRESS SUPPORT.*
This naturally made multivitamin is mindfully formulated with a selection of premium ingredients perfectly balanced to enhance vigor and vitality, improve mood, and help you cope with stress and fatigue.*
Sale price
$24.97
Regular price
$34.97
✔
30 day risk-free guarantee.
Estimated Delivery:Dec 06 - Dec 10

Free Shipping on all U.S Orders.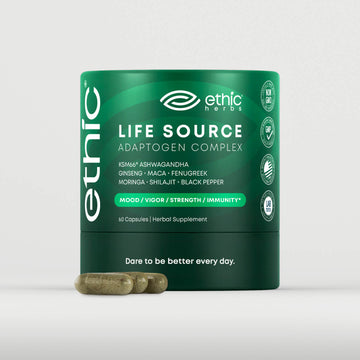 LIFE SOURCE - Ashwagandha and Maca Root Natural made multivitamin
Sale price
$24.97
Regular price
$34.97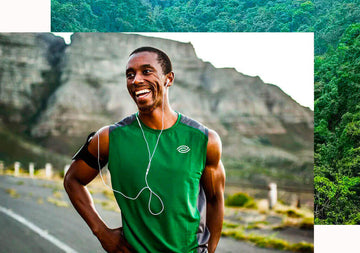 TOP PRODUCT REVIEWS
Sustained Focus in a Cool Little Tub!
★★★★★ - Amazon Verified Customer
"I replaced my ashwagandha supplement with this adaptogen complex, and it has that and several other natural energy vitamins in this blend. This helps keep your mood in check and it does NOT have a crash effect in the evening. My morning fasted cardio sessions have also been a breeze. Must have supplement if under stress, feeling like your cortisol levels are elevated, along side even if you're having caffeine withdrawals as this will surely help with that."
DESCRIPTION
BENEFITS
HOW TO USE
SHIPPING & SUBSCRIPTIONS
LIFE SOURCE Adaptogen Complex was formulated with KSM66 Ashwagandha, the leading patented Ashwagandha root extract bringing you up to x10 more potency than simple powders. Combined Red Panax Ginseng, Ashwagandha Maca Fenugreek, Moringa, Shilajit, and black pepper to act as an absorption enhancer, this 100% natural adaptogen complex is the best option to boost vigor, elevate your mood, increase your mental and physical resilience, and get a superior natural stress support.
ETHIC APPROVED:
✔ 100% Natural Ingredients.
✔ Non GMO.
✔ Vegan Capsules.
✔ Without additives or nasty ingredients.
✔ 3rd Party Tested.
✔ Made in USA.
✔ GPM Certified Facility.
✔ Plastic-Free Packaging.
30 DAY RISK-FREE GUARANTEE
Discover the Best Ashwagandha Supplement for a Complete Stress Support and Vigor Boost.
Mood, stress, fatigue, and tension.
*LIFE SOURCE® Adaptogen Complex benefits can non-specifically enhance the resistance of the human body under a wide range of external stress conditions, and they may help to reduce fatigue and tiredness. Ashwagandha has been proven to work efficiently reducing cortisol "the stress hormone", helping you optimize energy levels, rest properly, and cope with stress and fatigue issues.
Vigor, resilience, and vitality.
*LIFE SOURCE® ingredients have been selected to elevate your vigor and vitality levels naturally helping you to improve Strength and Stamina*. This Ashwagandha Maca Fenugreek adaptogen complex is an excellent option for high-demanding physical exercise when paired with healthy dietary and exercise habits.
Memory, mental clarity, focus, and cognition.
*LIFE SOURCE® balances hormones and chemicals in the brain that boost cognitive ability and mental focus, which means that these adaptogen complex benefits brings you a wide set of improvements in learning performance, concentration, mental alertness, mental clarity, and improved memory.
Immune System Support
*LIFE SOURCE® is an excellent Adaptogen Complex combination with a variety of adaptogenic herbs that help support immune system function and recovery*. This perfect blend of natural made multivitamin supplement produce a synergistic enhancement on the body's response to metabolic stress, which provides the ability to strengthen and balance the immune system.


Adults take 2 capsules daily. Take both capsules together for better results.

If you are going to have a highly demanding task (mental or physical) we recommend you to increase the dose to no more than 5 capsules, keeping in mind that if you take LIFE SOURCE® just before going to bed, you may have difficulties falling asleep.

As a dietary supplement, ​​this product does not induce an instant response like ​prescription drugs or ​medications. This is because is digested, absorbed, and utilized like any other food in the body. Increase the dose if you need it after 2 days if you don't feel the energizing effect. Following traditional Ayurvedic methods, we suggest taking the product for 2-3 months and then pausing for a few days to give the body rest.

Not for use during pregnancy or lactation. If you have a medical condition or take medications, please consult with your doctor before use. Store away from children. Use only as directed on the label. Safety-sealed for your protection. Keep the bottle capped at all times and store it in a cool, dry place.
Shipping: Free shipping on all U.S. Orders.

WE SHIP INTERNATIONALLY! Shipping is calculated at checkout. You can use the location calculator.

Subscriptions: You are able to modify, pause, and/or cancel your subscription at any time as long as the product you are trying to modify, pause, and/or cancel has not already shipped. If your product has already shipped, you can make changes to your next subscription orders without penalty.
TESTIMONIALS
LIFE SOURCE REVIEWS
I love it
"LOVE this herbal product! This gives me so much energy! I take it before working out and it helps give me that nice and healthy energy boost."
Great!
"Thank you ethic guys for this. Since I started taking this supplement I feel that my stress levels went down and I haven t had so much mood swings lately. I am very happy with the results so far."
WOW
This stuff is gold!! I m still on my first bottle and it has already changed my marriage. I will take it as long as they make it. I will say I take 2 capsules in the morning. I tried 1 / morning and 1 / afternoon but it was keeping me up at night. (Oh yeah increased energy! 2nd best part)
Thank you!
"I usually don't write reviews, but this time I would like to say THANK YOU! I noticed a big energy increase from the very first capsule, and after a couple of days my mood was better. Now I feel less stress and I am more present and focus."
It gives you plenty energy
"I have been using Life Source for a few months now and I am so happy with the results. With ashwagandha and maca root I have more energy and my cramps are gone. I feel like a new person! Thank you for this great product."
Powerful
The combination of Ashwagandha and other adaptogenic herbs seemed to have an energetic and positive impact on my mood. The best part is there are no additives.
Best results for the same price
I have tested numerous ashwagandha, maca, and fenugreek supplements, yet none of them compare to the quality and effectiveness of this brand. It is by far the best supplement I have ever used, and I highly recommend it.
What Adaptogens Can Do For You?
FAQs
What is an adaptogen complex?
An adaptogen complex is a blend or combination of adaptogenic herbs (mushrooms, roots or plants) that help the body resist stressors of all kinds, including mental, physical, chemical, or biological.
Adaptogens supplements have been used in traditional Eastern medicine for over 2,000 years. They are often used in traditional Chinese medicine or Ayurveda to decrease stress and fatigue.
What are the benefits of taking adaptogen complex?
The benefits of taking adaptogen complex include improved mood and stress resistance, increased energy levels, enhanced mental clarity and focus, improved immune system function, and overall better health and well-being.
How does adaptogen complex help with stress?
Adaptogen complex promotes homeostasis in the body which regulates the body's functions to reduce serum cortisol levels and This naturally promotes mental calmness, balance and improves focus, vitality, and self-control.
Studies have shown that adaptogenic herbs interact with the immune-neuro-endocrine system, which can help regulate and maintain one's body's energy levels and promote strong immune defenses.
Can adaptogen complex improve energy levels?
Yes, adaptogen complex can improve energy levels by supporting adrenal function, improving oxygen utilization, and enhancing overall vitality.
Are there any side effects associated with adaptogen complex?
While adaptogen complex is generally considered safe, some individuals may experience side effects such as headaches, dizziness, or digestive upset. It is important to consult with a healthcare professional before taking any new supplement.
Which herbs are commonly found in adaptogen complex supplements?
Common herbs found in adaptogen complex supplements include Ashwagandha, Ginseng, Rhodiola, Holy Basil, Maca, Fenugreek, Shilajit, Siberian Ginseng (Eleuthero), and Schisandra.
How should I take adaptogen complex for optimal results?
The optimal way to take adaptogen complex depends on the specific supplement and its instructions. However, it is typically recommended to start with a low dose and gradually increase as needed, taking the supplement consistently over time for best results.
Can adaptogen complex help improve mental clarity and focus?
Yes, adaptogen complex can help improve mental clarity and focus by reducing stress, supporting brain health, and enhancing cognitive function.
Is adaptogen complex safe for long-term use?
Adaptogen complex is generally considered safe for long-term use, but it is important to consult with a healthcare professional before taking any supplement for an extended period.
How does adaptogen complex differ from other stress-relief supplements?
Adaptogen complex differs from other stress-relief supplements in that it contains a blend of adaptogenic herbs that work synergistically to support the body's stress response, rather than just addressing symptoms of stress. This holistic approach promotes overall balance and health.
Health benefits of Ashwagandha, Maca, and Fenugreek
From boosting energy and vitality to enhancing libido and managing stress, these super herbs have been revered for their remarkable adaptogenic qualities and historical use in traditional medicine.
Ashwagandha, also known as Withania somnifera, is an adaptogenic herb that has been used in Ayurvedic medicine for centuries. It is renowned for its ability to reduce stress, anxiety, and cortisol levels while promoting a sense of calm and overall well-being. Maca, scientifically known as Lepidium meyenii, is a cruciferous vegetable native to the Andes mountains. It is prized for its energy-boosting properties, hormone balance support, and potential enhancement of sexual function. Fenugreek, or Trigonella foenum-graecum, is an herb with a long history of use in traditional medicine, known for its potential to support testosterone levels, improve libido, and aid in blood sugar regulation.
The combination of these three powerful herbs offers a comprehensive approach to promoting overall health and vitality. Together, they may provide a synergistic effect, addressing various aspects of physical and mental well-being. From stress management and hormonal balance to energy enhancement and sexual wellness, the collective benefits of ashwagandha, maca, and fenugreek make them an intriguing trio for holistic health enthusiasts.
The science behind Ashwagandha, Maca, and Fenugreek combined with Ginseng, Shilajit and Moringa
The individual efficacy of ashwagandha, maca, and fenugreek is supported by scientific research, shedding light on their mechanisms of action and potential health benefits. Ashwagandha, for instance, contains bioactive compounds such as withanolides, which have been studied for their anti-inflammatory, antioxidant, and immune-modulating properties. Additionally, maca contains various nutrients, including amino acids and phytonutrients, which may contribute to its adaptogenic and energizing effects. Fenugreek, on the other hand, is rich in fiber, vitamins, and minerals, and its bioactive components such as saponins and alkaloids have been investigated for their potential impact on testosterone levels and sexual function.
Ashwagandha, Maca, and Fenugreek combined with Ginseng, Shilajit and Moringa, may complement each other's actions, creating a holistic approach to health and wellness. The adaptogenic qualities of ashwagandha, energy-boosting attributes of maca, and potential hormonal support from fenugreek collectively contribute to their synergistic potential in promoting overall vitality and well-being. Adding Ginseng, Shilajit, and moringa add an extra boost of vitamins and minerals to your body to fully revigorize your mind and body, and improve immune system and overall well-being.
Potential side effects and precautions
While ashwagandha, maca, and fenugreek are generally well-tolerated by most individuals, it is crucial to be mindful of potential side effects and interactions, especially when used in combination with medications or other supplements. Ashwagandha, for example, may have sedative effects in some individuals and should be used with caution if you are taking central nervous system depressants. Maca, when consumed in large amounts, may lead to digestive discomfort due to its high fiber content. Fenugreek, similarly, may cause gastrointestinal issues in some individuals, particularly when used in excess.
It is advisable to start with lower doses when introducing these herbs into your routine and monitor your body's response. Additionally, pregnant or breastfeeding individuals, as well as those with specific health conditions such as hormone-sensitive cancers or diabetes, should seek guidance from a qualified healthcare provider before using ashwagandha, maca, or fenugreek supplements.
As with any dietary or lifestyle changes, it is advisable to consult with a qualified healthcare professional before integrating new supplements or herbs into your routine, especially if you have existing health concerns or are taking medications. By approaching holistic wellness with mindfulness and informed decision-making, individuals can embark on a journey to vitality, empowered by the remarkable potential of ashwagandha, maca, and fenugreek. Embrace the amalgamated power of these super herbs and embark on a path to holistic well-being, supported by the time-honored wisdom of traditional botanical remedies.
You are Helping!
ETHIC® proudly announces the collaboration with 1% for the Planet!
We commit to giving back at least 1% of our e-shop sales to partnered nonprofit organizations helping environmental issues including ocean cleanup, biodiversity, and reforestation.
This global movement - consisting of more than 4,000 business, individual and nonprofit members - has a simple idea: as companies profit from the resources they take from the Planet, they should protect those resources by giving back to the Earth.
It is a small commitment today that can make a huge impact tomorrow!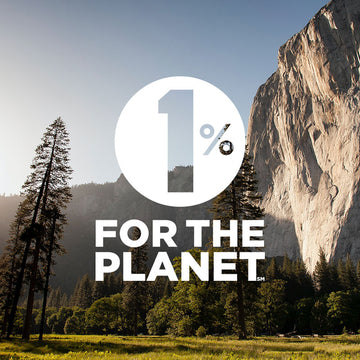 Ratings and Reviews
Powerhouse energy boost for afternoon slump
This is my first time taking an Ashwagandha supplement, though I've known of it's benefits for a really long time. A friend of mine told me that she takes this at around 12 noon with her lunch, and it helps her get through the rest of the work day without the need to nap or drink a cup of coffee. This particular supplement has other ingredients I was interested in, namely Maca Root and Ginseng. I waited 2 weeks before writing this review, and I can honestly say this has been a lifesaver. I take it with my lunch as well, and since I've been doing so, I don't feel tired during the day, but still sleep super well at night. Love this stuff and the energy it gives me.
So far so good
I've been taking most of the supplements in this separately for a while now with amazing results. It's convenient to have found capsules that contains them all. These adaptogens in my experience are great for stress and energy levels. I love that it contains shilajit which has pretty much changed my life since I started taking it in resin form years ago.Capsules are easy to swallow with no funky taste. They do have a slight smell of fenugreek, which is slightly sweet/syrupy. Bottle came safety sealed under the cap. I have no complaints 👍
Seems to be Working
I have had more energy despite not being able to sleep well and had a pretty good mental state despite having a very stressful situation occuring. So whether this stuff is contributing or not I can't be sure but I feel really good since I have been taking this supplement.
A Holistic Approach to Energy
My venture into the Life Source Adaptogen Complex stemmed from a desire to combat lingering afternoon fatigue without resorting to caffeine. The blend of ingredients aims to offer a comprehensive energy boost without the usual side effects associated with caffeinated products. I've found that incorporating this supplement during early afternoons provides me with a sustained focus minus the anxiety or sleep disruptions that come with conventional energy drinks I used to consume.Beyond the clean energy enhancement, the Adaptogen Complex has amplified my cognitive sharpness and focus during work-related tasks and professional commitments. The inclusion of Panax Ginseng and KSM66 Ashwagandha contributes to stress reduction and overall cognitive support, while the Fenugreek Extract, Moringa, Shilajit, and Black Maca Root collectively enrich the formula with potential cognitive vitality.The supplement not only delivers on its energy and focus-enhancing promises but also adheres to stringent quality standards. Crafted in the United States, it holds organic certification, undergoes third-party testing for authenticity, adheres to non-GMO principles, and aligns with GMP regulations. The environmentally conscious, non-plastic cardboard container adds to its appeal.** Warning / Disclaimer ** -- It is important to always do your own research when it comes to taking supplements of any kind. Make sure you are getting your information from a variety of trustworthy sources based on peer-reviewed studies and medical information, such as the official site for PubMed. Equally important is to read all the ingredients on a supplement formulation and cross-check to ensure that any medications or other supplements you are taking will not cause any dangerous interactions. Some vitamin and herb combinations alone or along with prescriptions can have interactions that can be life-threatening. Do not take the information in my review, other people's, or sellers' descriptions as facts. Verify for yourself before sticking something into or onto your body that could potentially cause you harm! --
Energy and Mood Support
There is a lot to love about Life Source Adaptogen Complex. It contains ingredients that help support mood and focus, stamina & energy and may help boost your immunity. These come in a recyclable round box and it contains 30 daily servings. These are made in the USA in a GMP certified facility and third party tested.I have been taking these for about a week and I am seeing results.
Traceability
- Lot Number: 2305021
- Production Date: 05/2023
- Expiry Date: 05/2025


You may also like.
Sale price
$24.97
Regular price
$34.97
Sale price
$24.97
Regular price
$34.97
Sale price
$24.97
Regular price
$34.97