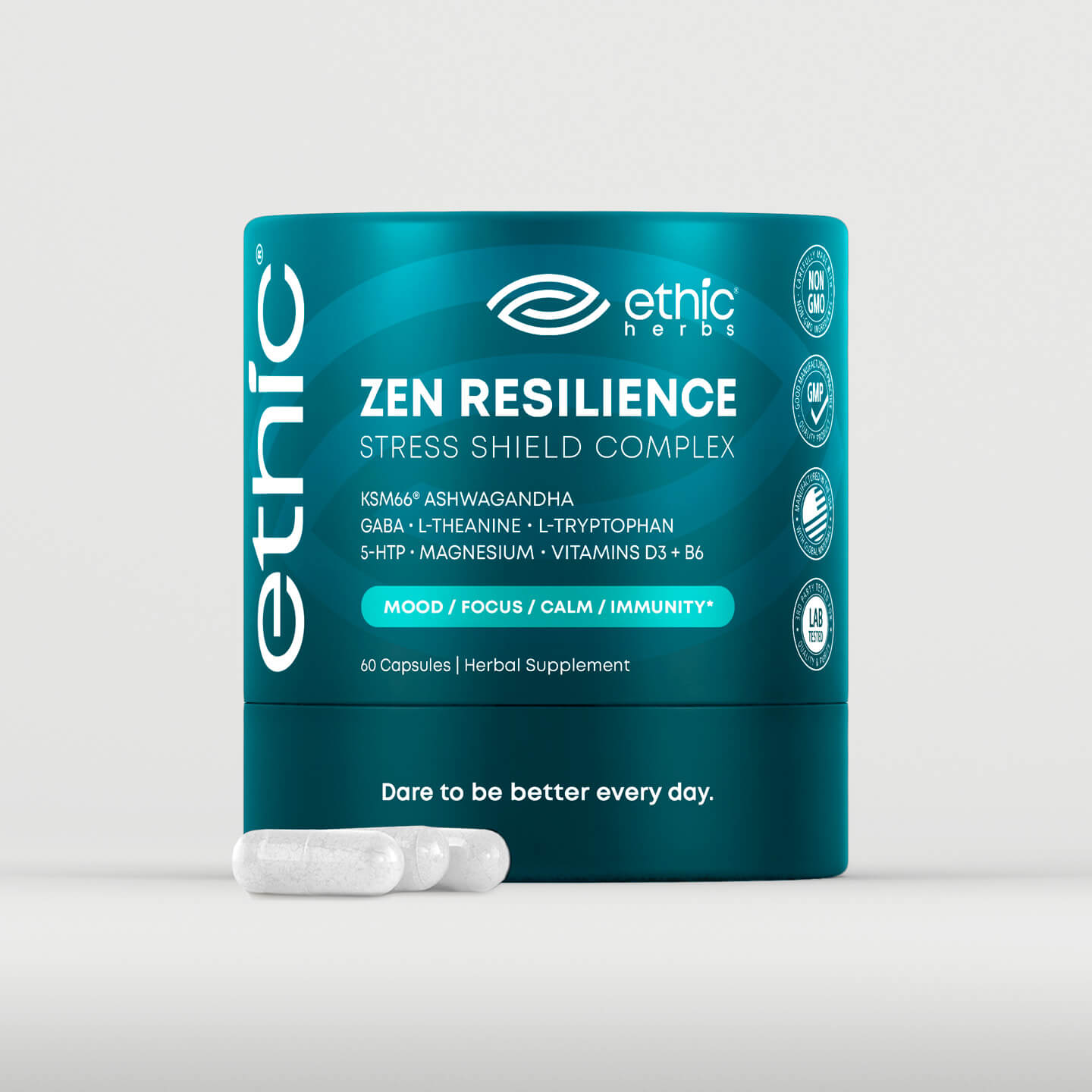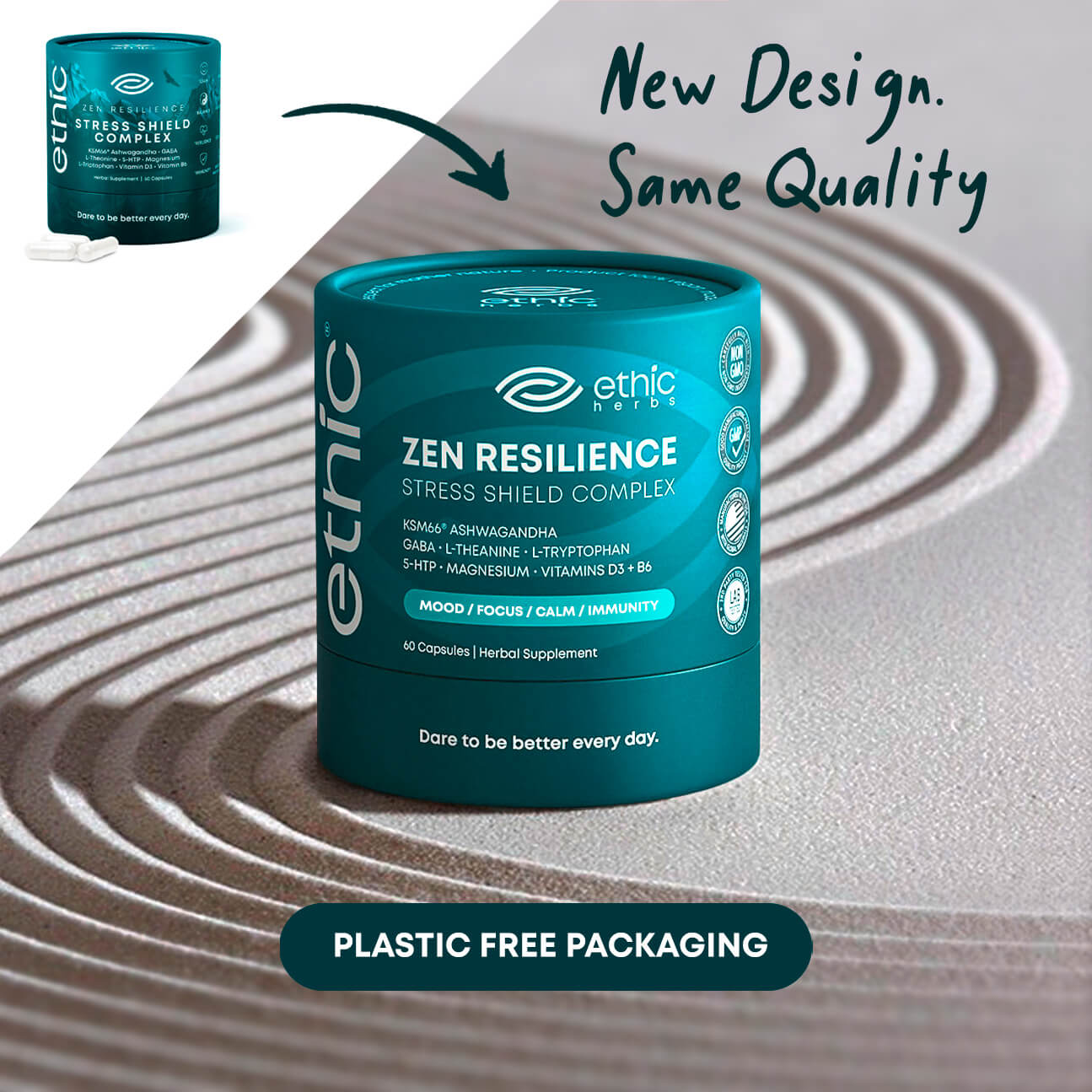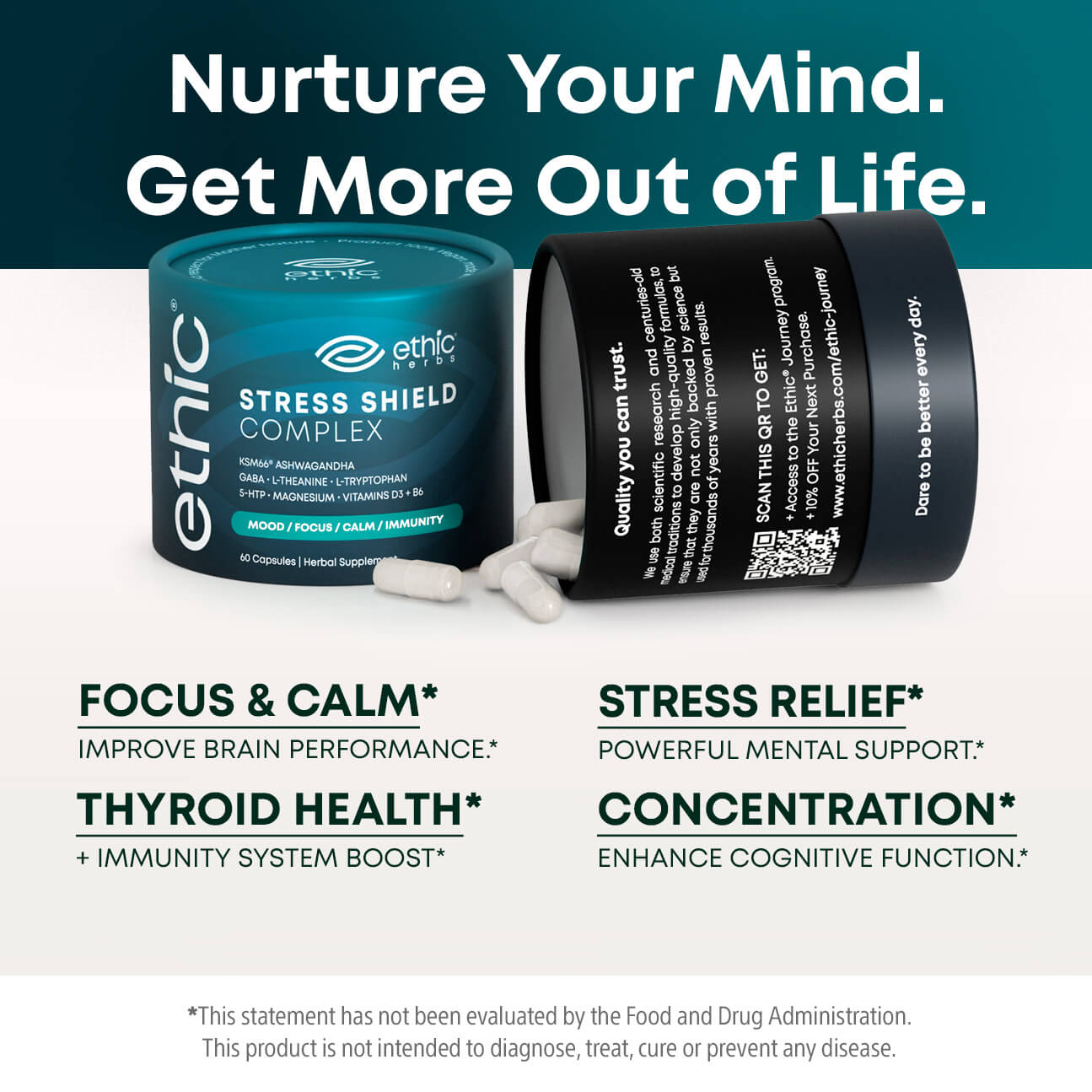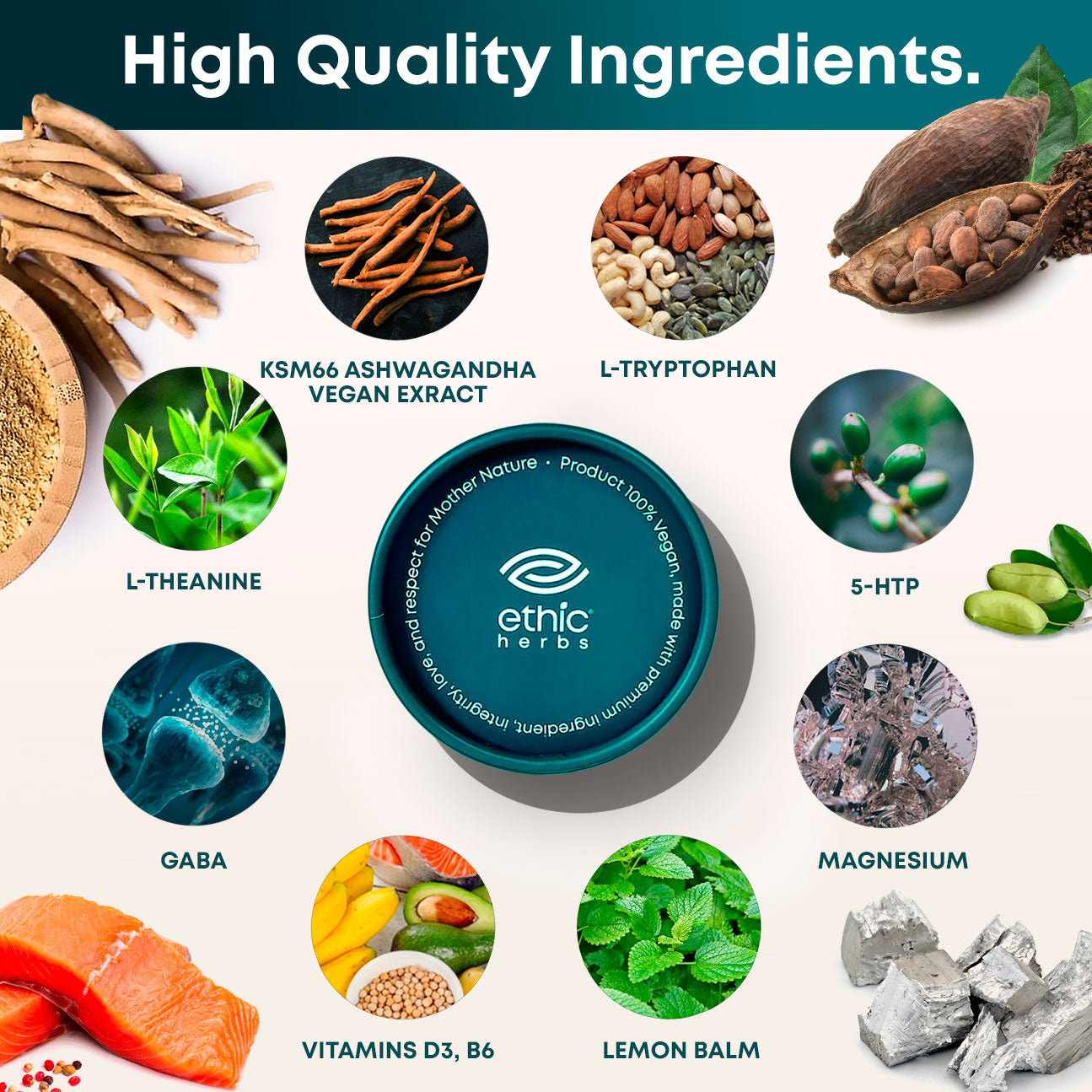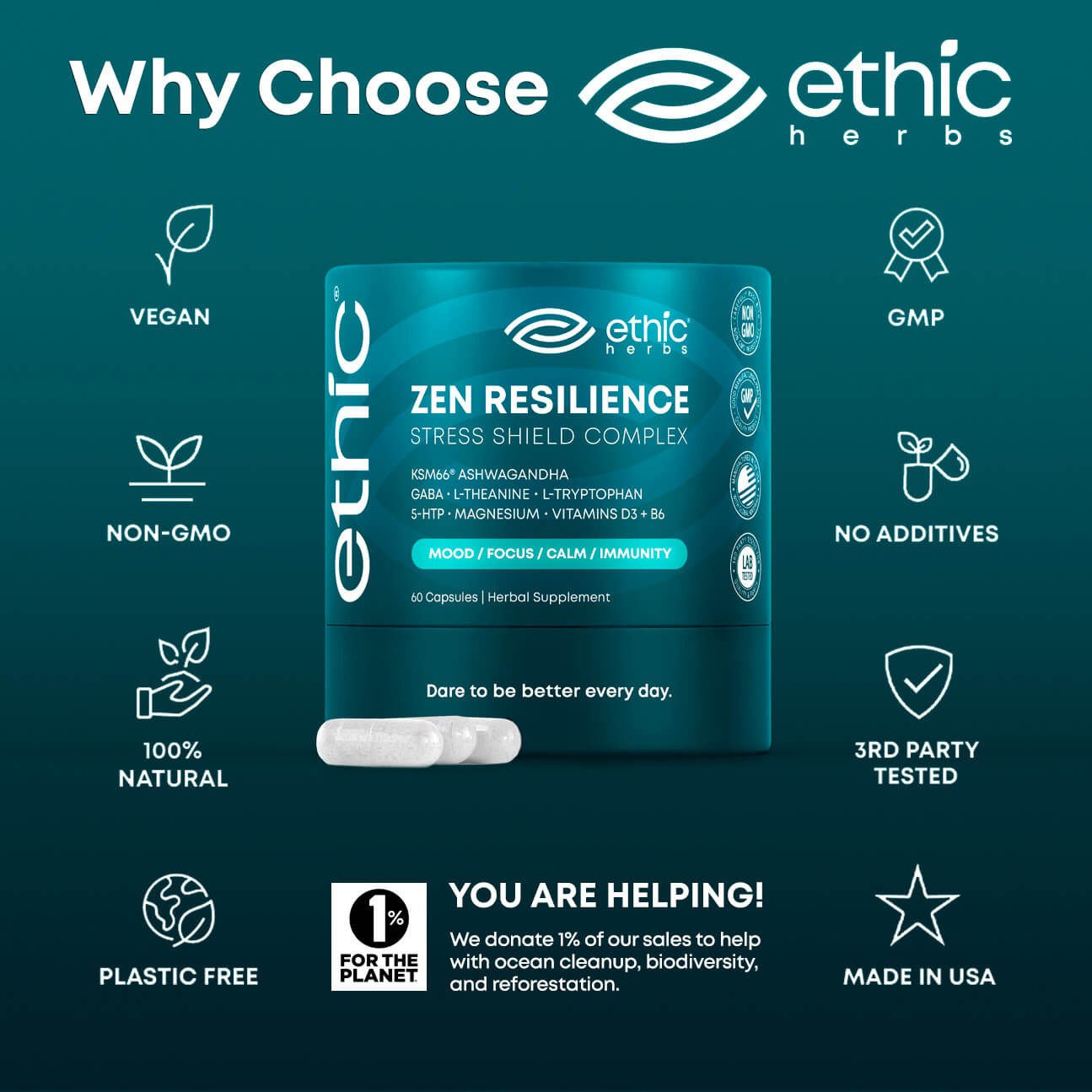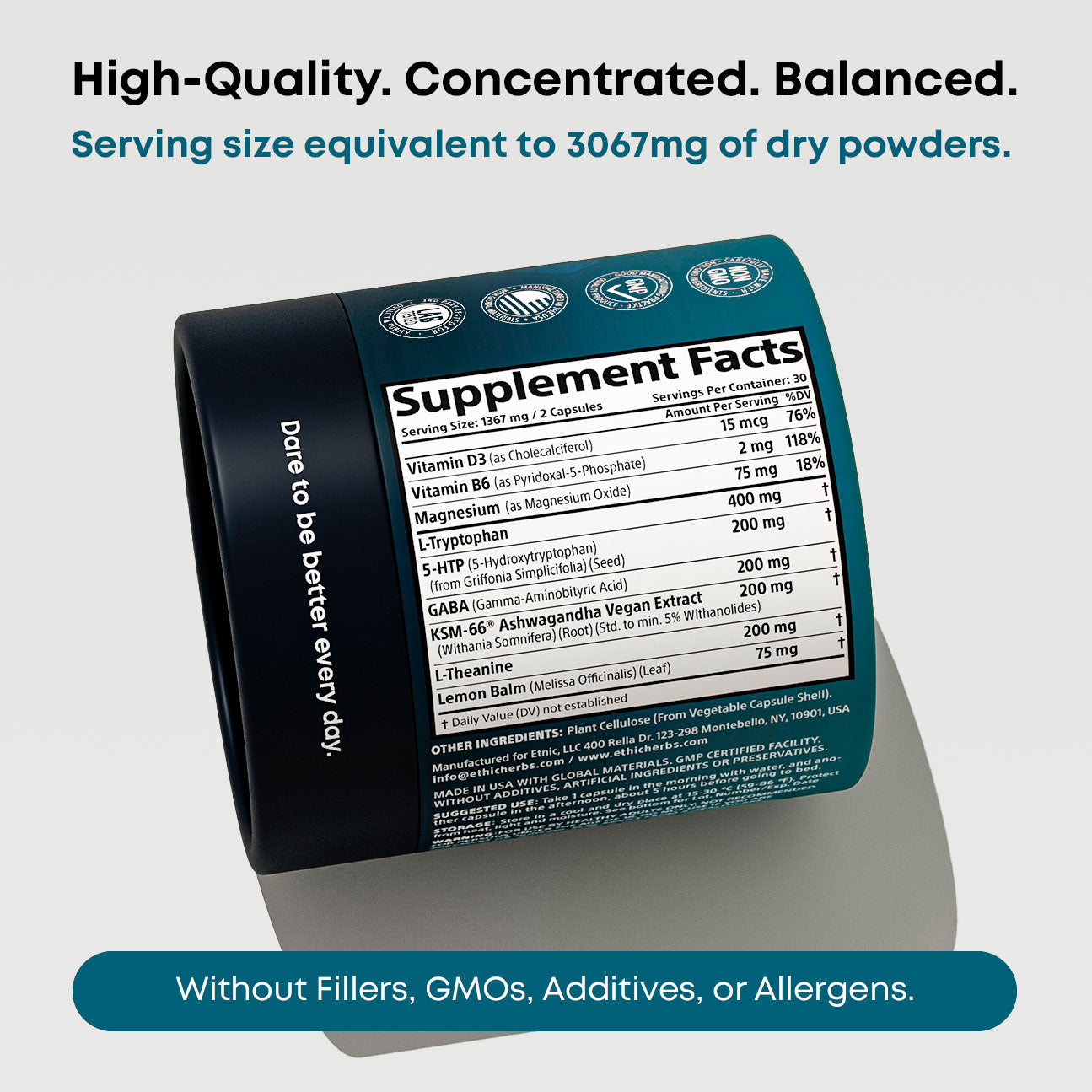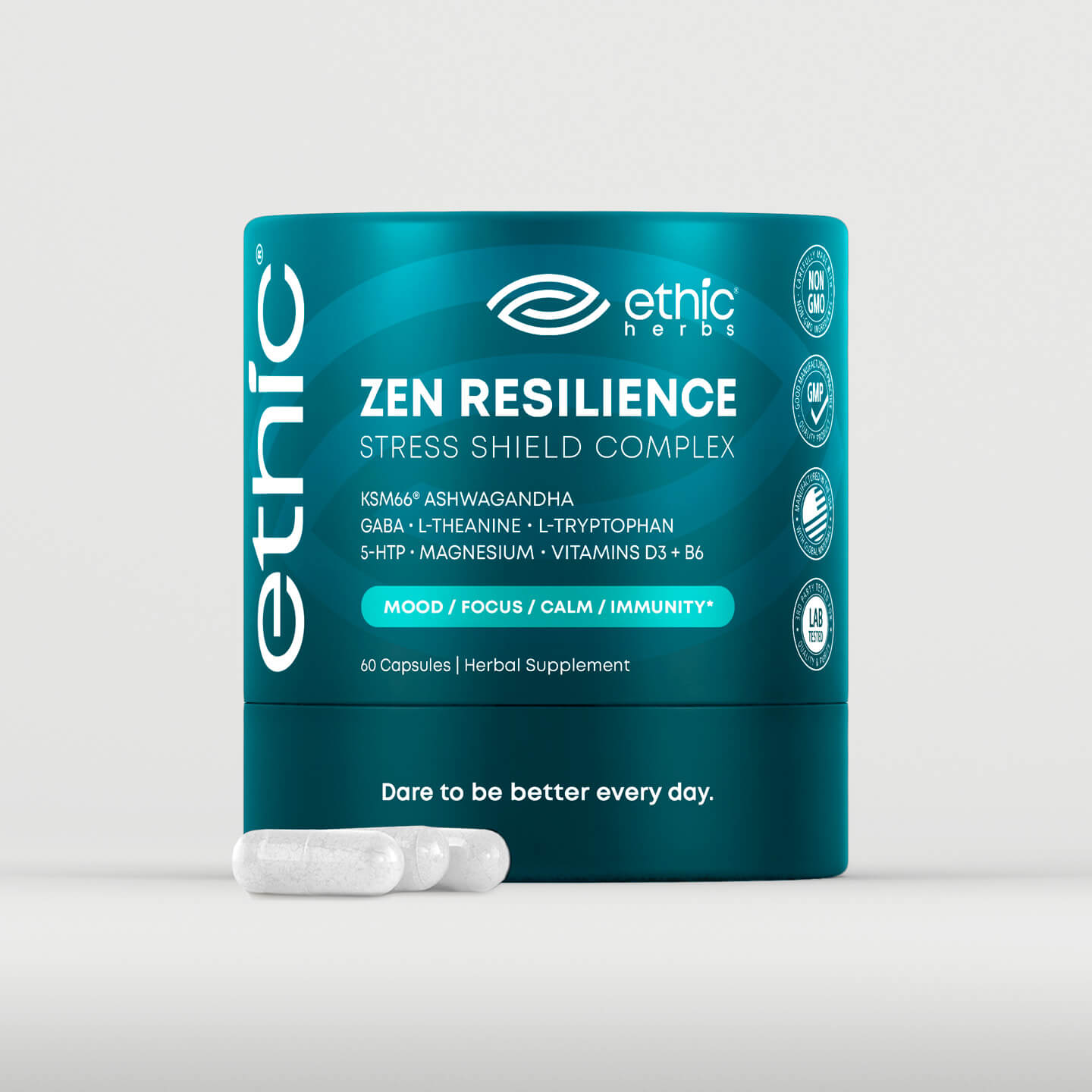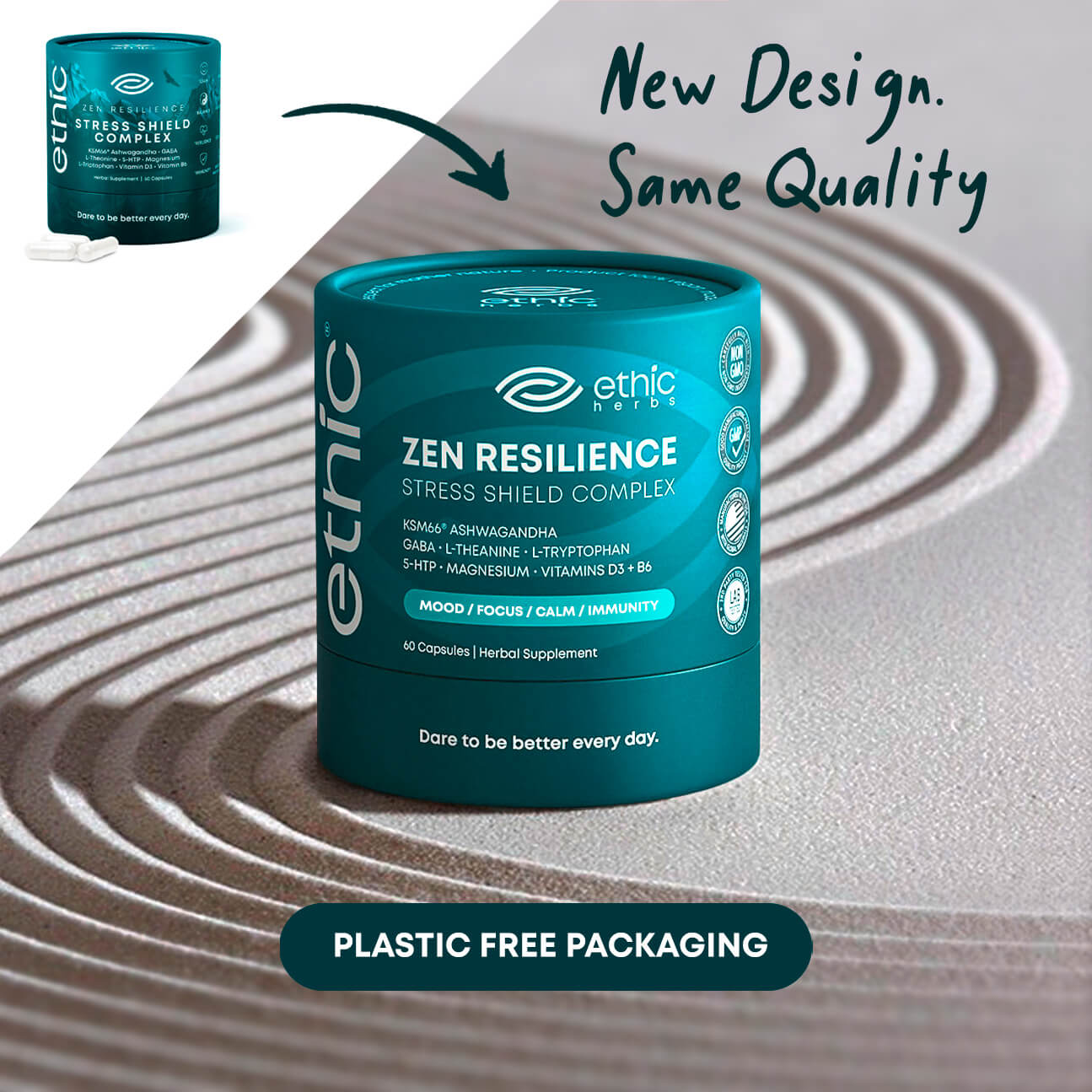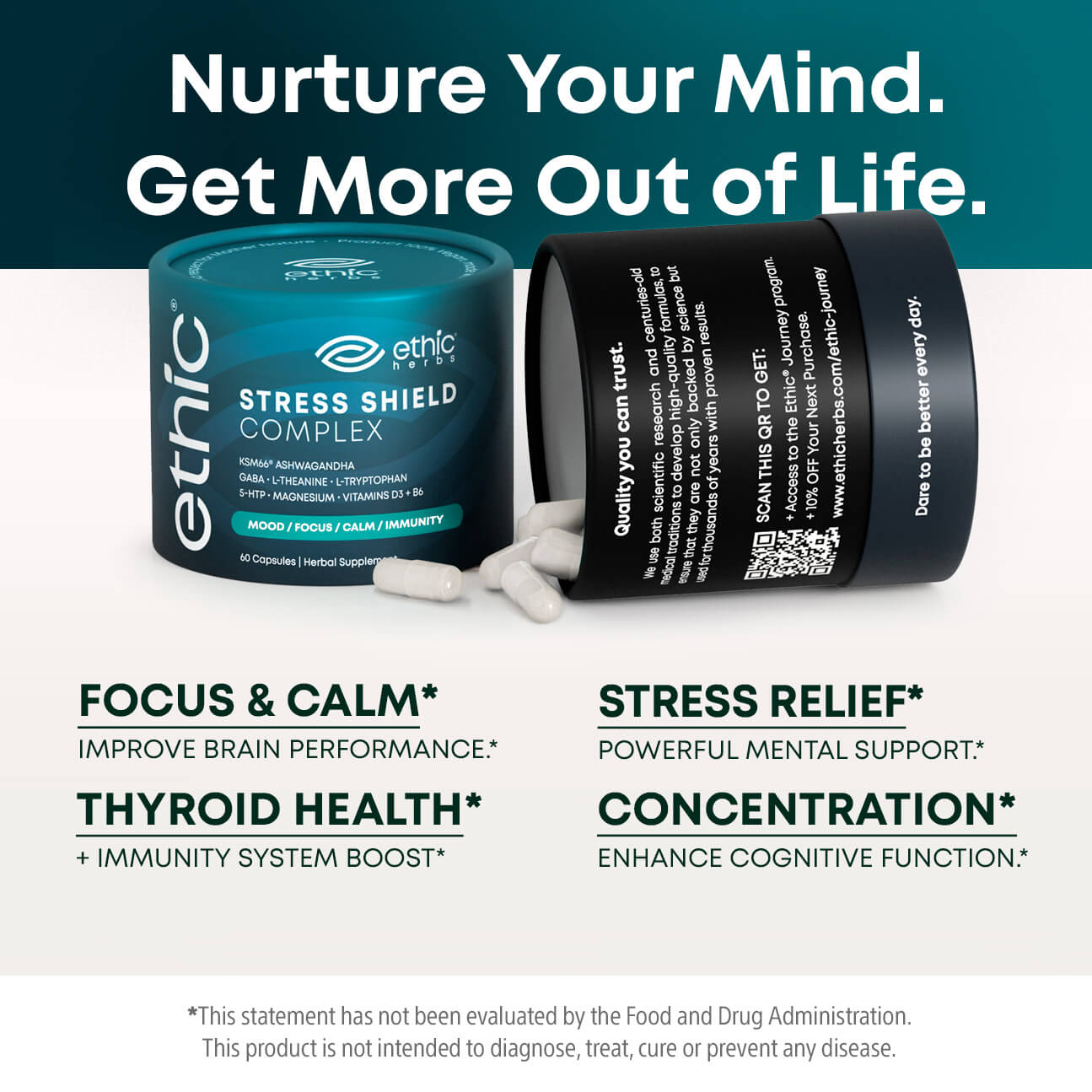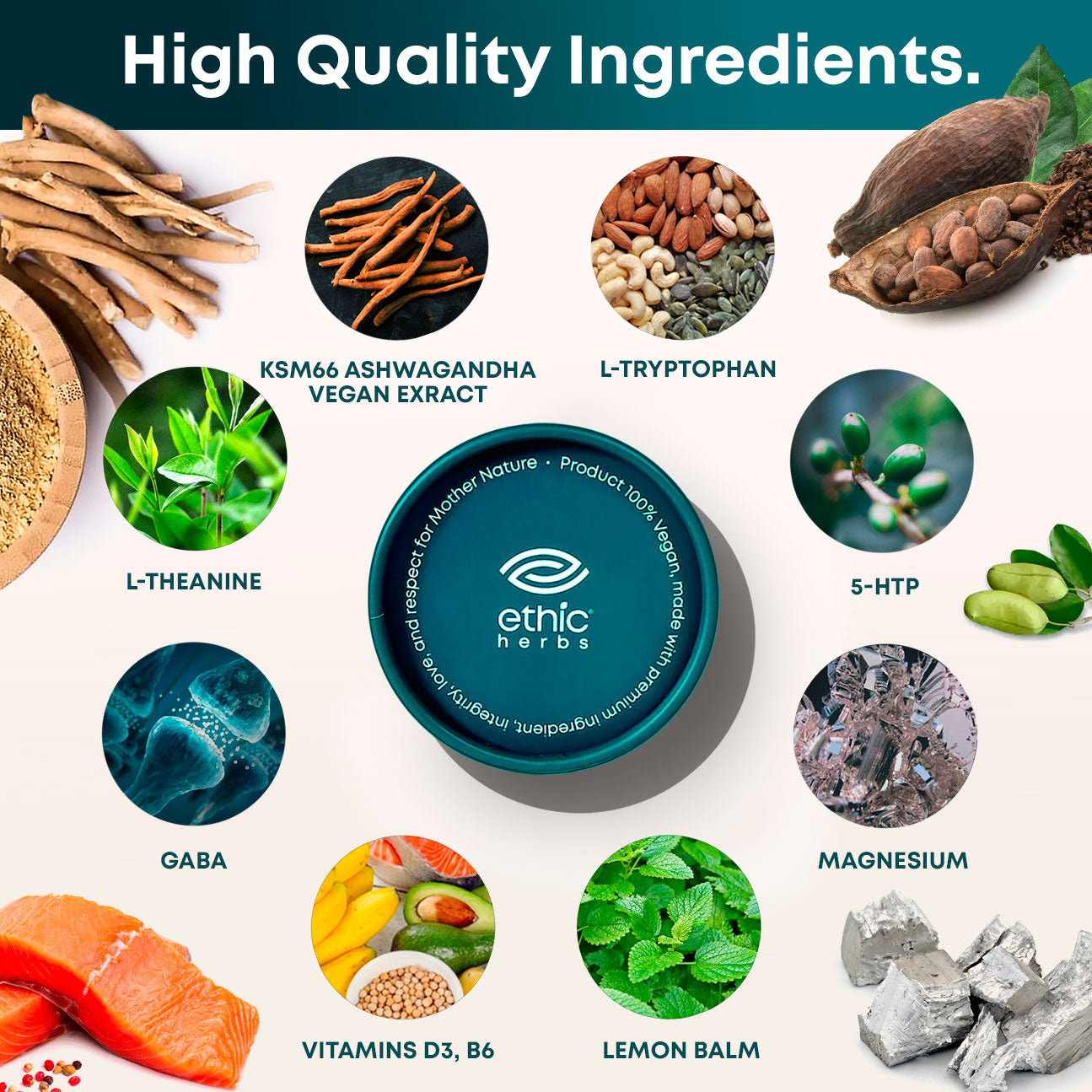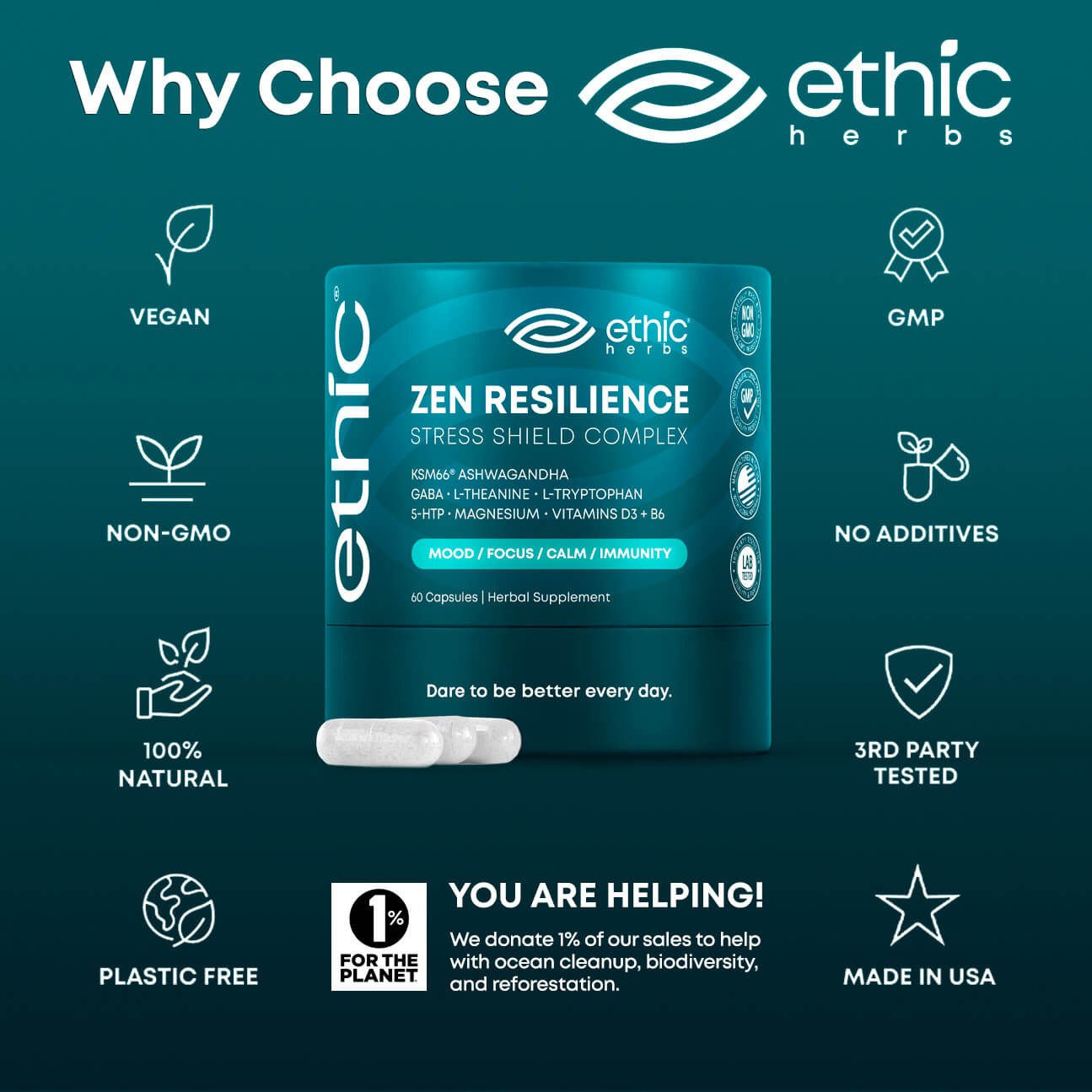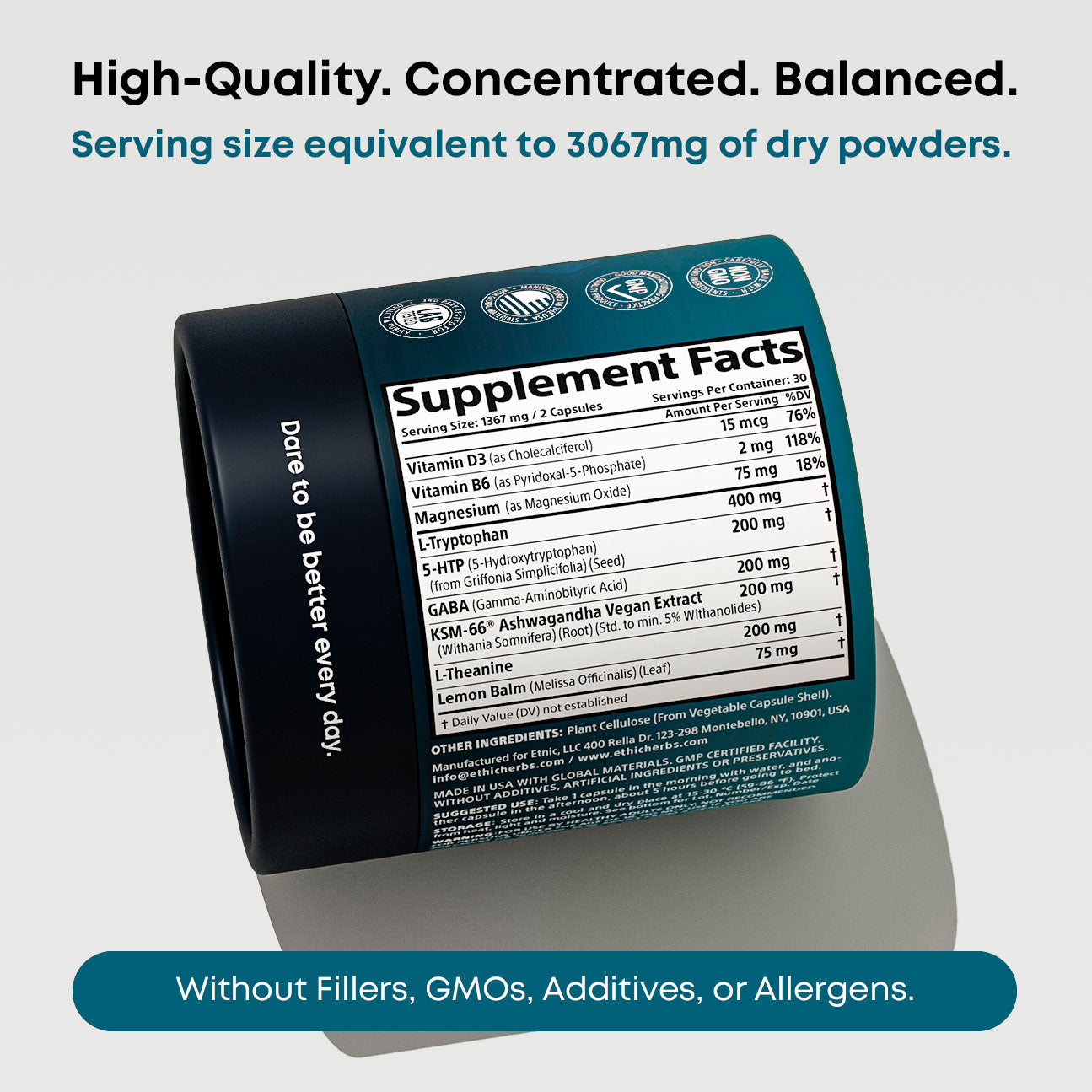 Theanine with Ashwagandha Serotonin Supplement for Stress
"As soon as I took the first dose of this magical elixir, all my stress melted away like never before! It's a lifesaver for me."

*FOR SEROTONIN AND STRESS SUPPORT, IMPROVED MOOD, FOCUS AND CONCENTRATION.

*High-quality nutrients for your brain, mindfully formulated for superior stress support and enhance your focus and concentration with calm while keeping you "In The Zone". Experience an improved mood, focus, and a better sleep quality.
Sale price
$24.97
Regular price
$34.97
✔
30 day risk-free guarantee.
Estimated Delivery:Dec 06 - Dec 10

Free Shipping on all U.S Orders.
Subscriptions: Receive this product every 30 days.
You are able to modify, pause, and/or cancel your subscription at any time as long as the product you are trying to modify, pause, and/or cancel has not already shipped. If your product has already shipped, you can make changes to your next subscription orders.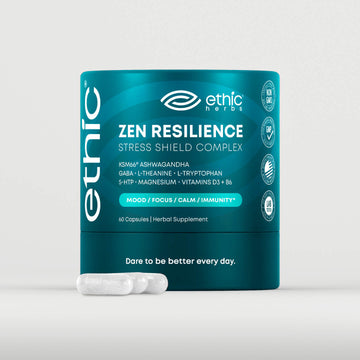 Theanine with Ashwagandha Serotonin Supplement for Stress
Sale price
$24.97
Regular price
$34.97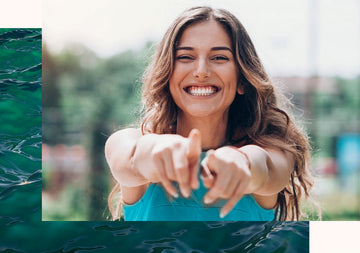 TOP PRODUCT REVIEWS
Meditation in Pill Form.
★★★★★ Amazon Verified Customer
This has to be one of (if not THE), the most effective, most well-balanced, well thought out mix of effective ingredients that do what's advertised in no time at all. I'd like to think I'm tuned in to myself enough to feel when stress might be coming on, I took a couple of these and poof - gone

It didn't make me tired either. Just felt...more focused. No drowsiness at all and I'm super impressed at that as the ingredients in this are all seen (usually), in sleep aid products which, despite me not having the chemistry genius of Walter White, tells me this product wasn't just some random list of ingredients put into a blender. I'm thinking some care was put into this. This does calm and soothe the mind but it gives me the focus I need to be productive minus all the stress.

Stop reading, grab it, you won't have regrets. It's astounding.
DESCRIPTION
BENEFITS
HOW TO USE
SHIPPING & SUBSCRIPTIONS
ZEN RESILIENCE Stress Shield Complex is mindfully formulated with KSM66 Ashwagandha Vegan, GABA, L-Tryptophan, L-Theanine, and Lemon Balm for complete stress support, and also with high-quality nutrients for your brain such as 5-HTP, Magnesium, Vitamin D3, and Vitamin B6 to help you stay focused and keep your calm and balance through the day. Harness your inner resilience to overcome any challenges that may come your way.
✔ 100% Natural Ingredients.
✔ Non-GMO.
✔ Vegan Capsules.
✔ Without additives or nasty ingredients.
✔ 3rd Party Tested.
✔ Made in the USA.
✔ GPM Certified Facility.
✔ Plastic-free packaging.
30 DAY RISK FREE GUARANTEE.
Stress and Anxiety Relief.
*ZEN RESILIENCE® Stress Shield Complex is carefully formulated to help you increase your ability to protect your mood and help you cope with stress and anxiety with the leading patented extract KSM66® Ashwagandha and L-Tryptophan to help you boost the brain's cognitive function and reduce cortisol levels.
Mood, fatigue, and tension.
*If you're struggling with mental fatigue, exhaustion, or tension, ZEN RESILIENCE® is just what you need. This serotonin supplement contains a blend of L-theanine Vitamin D3, Vitamin B6, Magnesium, which have been proof to help with these issues.
Memory, mental clarity, focus, and cognition.
*ZEN RESILIENCE® ingredients such as 5-HTP and GABA help improve focus and concentration with unshakeable calm, boosting your cognitive performance and mental well-being.
Sleep Quality and Restfulness.
*ZEN RESILIENCE® helps your body and mind to have a more restful night's sleep, as it stimulates serotonin and melatonin production and provides calming, stress-reducing effects. As a result, you may experience improved mental well-being, alertness, and an overall reduction in fatigue.
When you first start taking ZEN RESILIENCE®, we highly recommend starting off with one capsule in the morning (683 mg) with enough water, which will help you start your morning with a balanced mindset, and another capsule after lunch to maintain a constant nutrient intake and help optimize stress levels.

We suggest taking the product at the recommended dose (2 capsules daily) for a solid week. You might want to increase the dose by another capsule and add it to your morning routine if you are going to deal with a highly demanding mental effort.

Following traditional Ayurvedic methods, we suggest taking the product for 2-3 months and then pausing for a few days to give the body rest.

Not for use during pregnancy or lactation. If you have a medical condition or take medications, please consult with your doctor before use. Store away from children. Use only as directed on the label. Safety-sealed for your protection. Keep the bottle capped at all times and store it in a cool, dry place.

ALLERGENS: This product is produced in a facility that also processes milk, eggs, fish, shellfish, tree nuts, peanuts, soy, wheat, sesame and may contain trace amounts of all listed ingredients.
Shipping: Free shipping on all U.S. Orders.

WE SHIP INTERNATIONALLY! Shipping is calculated at checkout. You can use the location calculator.

Subscriptions: You are able to modify, pause, and/or cancel your subscription at any time as long as the product you are trying to modify, pause, and/or cancel has not already shipped. If your product has already shipped, you can make changes to your next subscription orders without penalty.
Proven Outcomes.
ZEN RESILIENCE REVIEWS
Best stress relief capsules I've used.
"The best product I have come across that helps me stay calm and focused throughout my day."
Melanie G. - Verified Customer
Great!
"I don't let things bother me like before. I was looking for something to help me sleep better and reduce my stress levels. This product works sice the first capsule!"
Jean C. - Verified Customer.
Lifesaver
"I've been taking it for about six months now. I don't know what I would do without it! It's a lifesaver for me. I am so much more relaxed and focused than before and my stress levels are so low that I can barely remember what it was like to be stressed out all the time."
Carl D. - Verified Customer.
It works for me
"I work long hours, most of the time on weekends too. I don't know how I would make it without this capsules. I take it before every major event at work, and I stay calm and relaxed."
Robert S. - Verified Customer.
Awesome capsules!
"My days became increasingly dark until I found this. Now I don't feel overwhelmed anymore and it's even helped my marriage! It's made me feel like myself again."
Claire M. - Verified Customer.
Great solution to stress
"I am a mother of two; the stress of being an entrepreneur and the pressure of juggling work, marriage, and kids took its toll on me. I can say that this product works and it really helped me."
Alice P. - Verified Customer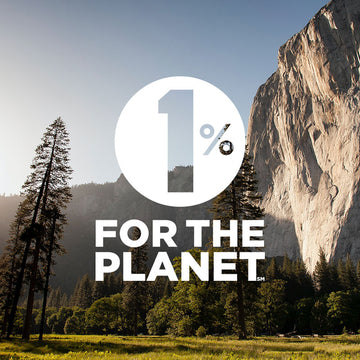 You are Helping!
ETHIC® proudly announces the collaboration with 1% for the Planet!
We commit to giving back at least 1% of our e-shop sales to partnered nonprofit organizations helping environmental issues including ocean cleanup, biodiversity, and reforestation.
This global movement - consisting of more than 4,000 business, individual and nonprofit members - has a simple idea: as companies profit from the resources they take from the Planet, they should protect those resources by giving back to the Earth.
It is a small commitment today that can make a huge impact tomorrow!
Ratings and Reviews
I'm in a much better mood after a long day at work
Some may hesitate at the thought of spending $1 a day on a supplement, but let me tell you, zen resilience is worth every penny. When you break it down, it's a small investment in your overall health and happiness. I've been taking zen resilience consistently, and the benefits I've reaped far outweigh the cost. Improved mood, reduced stress, and better sleep quality are priceless, and zen resilience delivers all of that and more.
This is my new favorite daily ritual.
After a long and demanding day at work, I used to find it challenging to unwind and shake off the stress. That's when I turned to zen resilience, and it has made a world of difference. This supplement helps me transition from the stresses of the day to a more relaxed and positive state of mind. It's like a reset button for my mood, and I'm grateful for the peace it brings after a tough day.
Works great
I owe a debt of gratitude to my chiropractor for recommending zen resilience to me. This supplement has been nothing short of fantastic in improving my mood and helping me navigate the ups and downs of life. During times of stress and the monotony of daily routines, zen resilience provides me with an extra boost, allowing me to maintain a positive outlook. I had previously been on antidepressants, but zen resilience feels much cleaner and has a more significant impact on my mood. It's a 10/10 recommendation, and I'm thrilled with the positive changes it has brought to my life.
Feel more rested after sleep.
If you're seeking relief from anxiety and stress, look no further than zen resilience. This supplement has been a true lifesaver for me. It has a remarkable ability to reduce anxiety and stress levels, providing a sense of calm and balance even in the face of life's stressors. Unlike prescription medications, zen resilience offers a natural and holistic approach to anxiety relief. It's become my go-to solution for finding peace amidst life's challenges, and I couldn't be more pleased with the results.
It works.
Finally, I found capsules that help with stress and anxiety. They relax me without drowsiness. I'm happy with the results.
FREQUENTLY ASKED QUESTIONS
FAQ
Benefits of Ashwagandha and L-Theanine Combination
Unleashing the power of Ashwagandha and L-Theanine combined can be a game-changer for anyone seeking holistic wellness. These two potent natural ingredients, when brought together, create a synergy that can elevate both mental and physical well-being. If you're looking to manage stress, improve cognitive function, and enhance overall vitality, this dynamic duo could be the missing piece in your wellness routine.
Whether it's the calming effects of L-Theanine or the adaptogenic properties of Ashwagandha, the combination of these powerhouse ingredients holds immense potential. From reducing anxiety to promoting relaxation without sedation, the benefits are truly remarkable. Join us as we delve into the compelling science behind the fusion of Ashwagandha and L-Theanine and explore its potential to transform your well-being.
Combining Ashwagandha and L-Theanine enhances stress relief and mood support. Ashwagandha, an adaptogen, helps in reducing stress and anxiety, while L-Theanine, found in green tea, promotes relaxation without drowsiness, making this blend ideal for managing daily stress.
The experiences of individuals who have incorporated Ashwagandha and L-Theanine into their daily routines are a testament to the transformative potential of this powerful combination. Many users report feeling a noticeable reduction in stress and anxiety, improved relaxation, and enhanced mental clarity. Whether it's professionals seeking cognitive support, individuals managing hectic lifestyles, or those navigating the demands of modern living, the positive feedback on the efficacy of Ashwagandha and L-Theanine is resounding.
Testimonials often highlight the gentle yet profound impact of these natural ingredients on overall well-being. Users express a sense of balance, improved resilience to daily stressors, and an enhanced capacity to maintain mental focus and emotional equilibrium. The collective experiences of individuals who have embraced the power of Ashwagandha and L-Theanine paint a compelling picture of the profound benefits that can be harnessed through this dynamic duo.
Role of L-Tryptophan in Stress Relief
L-Tryptophan is an essential amino acid that aids in the production of serotonin, a neurotransmitter that regulates mood. Its inclusion in the supplement helps improve mood and reduce symptoms of stress and anxiety.
Improving Sleep Quality with GABA and Magnesium
GABA (Gamma-Aminobutyric Acid) and Magnesium work together to improve sleep quality. GABA is a neurotransmitter that induces relaxation, while Magnesium helps in muscle relaxation and has a calming effect on the nervous system, contributing to better sleep.

Effectiveness of Vitamin B6 in Stress Relief Supplements
Vitamin B6 is crucial for the synthesis of neurotransmitters like serotonin and dopamine, which are vital for mood regulation. Its presence in the supplement enhances its effectiveness in mood support and stress management.

Daily Use of Theanine with Ashwagandha Supplement
This supplement is designed for safe daily use. The natural ingredients like Ashwagandha and L-Theanine are well-tolerated and can be part of a daily routine to help manage stress and improve overall mood.

Mood-Supporting Properties of Vitamin D3
Vitamin D3 plays a significant role in brain health and mood regulation. It is linked to the maintenance of neurotransmitter balance and can enhance the mood-supporting properties of the supplement.
Side Effects of L-Theanine and Ashwagandha for Stress Relief
Generally, L-Theanine and Ashwagandha are well-tolerated with minimal side effects. However, as with any supplement, some individuals may experience mild side effects such as drowsiness or gastrointestinal discomfort.
Managing Anxiety and Depression Symptoms
While this supplement is not a replacement for medical treatment, ingredients like L-Theanine, Ashwagandha, and L-Tryptophan are known to help in managing symptoms of anxiety and depression by promoting relaxation and mood balance.
Timeframe for Noticing Supplement Effects on Stress Levels
The timeframe can vary, but many users report feeling more relaxed and noticing a reduction in stress within a few days of consistent use.
Vegan and Allergen-Free Aspects of the Supplement
This supplement is vegan and free from common allergens, making it suitable for a wide range of dietary preferences and needs.
Support for Adrenal Health and Thyroid Function
Ingredients like Ashwagandha are known for supporting adrenal health and may aid in maintaining healthy thyroid function, contributing to overall hormonal balance and stress management.

Compatibility with Other Medications or Supplements
It's always recommended to consult with a healthcare provider before combining this supplement with other medications or supplements to ensure safety and avoid interactions.

Recommended Dosage for Theanine with Ashwagandha Supplement
Take 2 capsules daily with enough water. It's important to follow these guidelines or consult with a healthcare professional for personalized advice. Furthermore, combining these supplements with a nutritious diet and proper hydration may enhance the desired outcomes.
Comparison to Other Stress Relief Products
This supplement stands out due to its unique blend of natural ingredients like KSM66 Ashwagandha, L-Theanine, and L-Tryptophan, which are scientifically supported for stress relief and mood support. This product is non-GMO, manufactured and 3rd party tested in the USA. Also, it is plastic free and Vegan.
You may also like
Sale price
$24.97
Regular price
$34.97
Sale price
$24.97
Regular price
$34.97
Sale price
$24.97
Regular price
$34.97